Our Cannon Wheels are made of hickory wood and designed to look like the civil war era cannon wheels. These wheels are extremely strong and solid, designed and dished for working cannon use. If you plan on rolling your cannon wheels around or pulling your cannon, your cannon wheels will require a bushing inserted into the hub, the price of the bushing includes truing so the wheel runs true and epoxying the bushing inside the hub.
Axles are available for all of our Cannon Wheels, please contact us for axle quotes.
Cannon Wheels are available in the following sizes, 15", 20", 24", 30", 36", 42", 48", and 50". We also custom build any of our wheels to fit any size requirements, need, or project. For custom wheel quotes, please Contact Us.
To view these wheels on real working cannons view our Photo Gallery, Click Here.
These cannon wheels are not only authentic wheels, they can be used to add that rustic, country, or western decor to any room or landscape.
Contact Us For Shipping: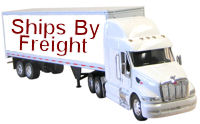 This Wagon Wheel Must Be Shipped By Freight. We use four (4) freight companies to ship our products and we always use the least expensive company to ship an order.
Contact us for a shipping quote using our Contact Page or by phone.

Phone: (859) 887-9432
Fax: (859) 885-1377

We double check each order for the lowest shipping rate before we ship your order, if we find a lower shipping rate your Credit Card will be refunded the difference.


If you need faster delivery, please contact us we will try to accommodate your request.
AXLES:
Our axles are made from Solid Square Steel Stock and machined on each end to match the wheel. We make Stub Axles to full length axles, Please Contact Us For Axle Prices.

DIMENSIONS: 14 spokes, Full Size Napoleon Civil War cannon wheel, spokes 2 3/4" wide at hub, 3" wide steel tire, 3 1/4" deep felloes (cut and beveled), 1 1/4" axle hole in hub (can make to fit customers specs), heavy wood hub with 4 bands, 11" diameter X 13 3/4" long and forge shrunk 1/2 steel rims.