1080 - 12 Inch Wood Wagon Wheels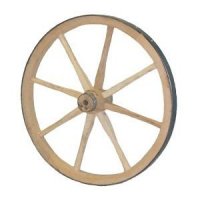 Wagon Wheels, 12" Top Quality Medium Hub Wood Hub Wagon Wheel.
Wood Hub Wood Wagon Wheels, bronze oil soaked bushing insert is available, and like all of our Wagon Wheels, it is made with solid steam-bent hardwood construction and hardwood spokes. All of our Wood Wagon Wheels have forge shrunk steel rims.
These Wagon Wheels are not only authentic Wagon Wheels, they can be used to add that rustic, country, or western decor to any room or landscape.

Axles and Custom Wagon Wheels: we can make Custom Wagon Wheels and Replacement Wagon Wheels up to 14 feet for most any project, for Axles and Custom Wagon Wheel prices please Contact Us.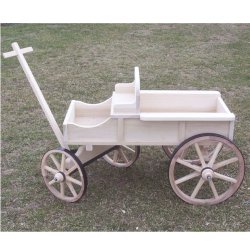 SHIPPING:
We double check each order for the lowest shipping rate before we ship your order, if we find a lower shipping rate your Credit Card will be refunded the difference.
We ship orders as soon as the order is completed, however, please allow 14 days for delivery on a Custom Wagon Wheel order. If you need faster delivery, please contact us we will try to accommodate your request.
This Wagon Wheel Is Shipped Via UPS, Contact Us For Shipping Discounts On Two Or More Items.
Dimensions: 8 spokes, 12" diameter, 1" wide by 1" thick felloe
We are a family owned and operated business, located in the Appalachian Mountains of Eastern Kentucky and Eastern Pennsylvania. We custom make everything that we sell, with the exception of a few items that are made by Amish craftsmen. As a family owned and operated business, your business is appreciated. Should you have questions concerning any of our services or products, please Contact Us.
You will find Wagon Wheels, Cannon Wheels, Carriage Wheels, Horse Drawn Wagons, Wagon Wheel Chandeliers, Wagon Wheel Hub Lamps, Wood Butter Churns, Wood Buckets, and Whiskey Barrels, at our Online Store. Enjoy your visit to our site and online internet store.