Take A Trip Back In Time....With Our Wood Butter Churn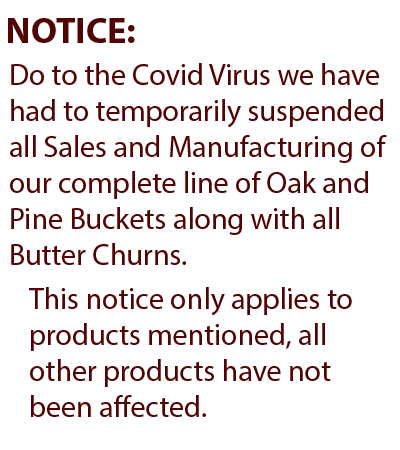 Our Small Unfinished Butter Churn adds a country accent to your home. Like all of our churns, it is a replica of old style butter churns used on the American frontier and in farm houses through out the US.
Sanded smooth white pine staves and hoops that are fastened by copper nails. There is a stomper at the end of the dasher handle. This churn is unfinished, which makes a wonderful medium for those who enjoy painting or stenciling to add your own personal touch.
All of our churns can be ordered stained golden oak to add a great country or antique accent.
While all of our butter churns can be used to make butter, the are water tight, we recommend that they be used for decorative purposes only.
SHIPPING:
We double check each order for the lowest shipping rate before we ship your order, if we find a lower shipping rate your Credit Card will be refunded the difference.
We ship orders as soon as the wheel is made, however, please allow 14-21 days for delivery. If you need faster delivery, please contact us we will try to accommodate your request.
Dimensions: Base is 5 1/2" at the bottom and 7" high, overall 15" high to top of dasher