Handmade Wagon Wheels and Wagons for overYears
Wagon Wheels, Wood Wagon Wheels, Cannon Wheels, Custom Wagon Wheels and Horse Drawn Wagon Wheels. Wagon Wheel Chandeliers, Yesterdays Handmade Wagon Wheels, Handmade in the USA Today. For 50 years Wagon Wheels and Wagons is what we do. That is why we sell more Wagon Wheels and Wagons than anyone else.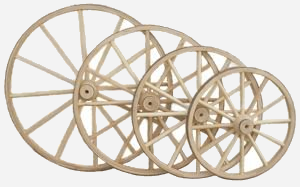 We are a family owned and operated business, located in the Appalachian Mountains of Eastern Kentucky and Eastern Pennsylvania. You will find our wagon wheels In the movies (Paramount, DreamWorks, Warner Brothers Pictures, Disney, Turner Films), on TV (Trading Places, Into The West, Myth Busters), on the beach at resorts, in university theater groups and major theme parks (Disney, Six Flags, Silver Dollar City, Kennywood, Tweetsie Rail Road) across America.
Cannon Wheels for Dunkin' Donuts Pumpkin Muffins TV Commercial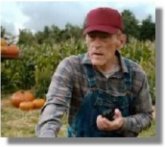 Click To View Commercial, When Dunkin' Donuts wanted their new Dunkin' Donuts Pumpkin Muffins TV Commercial, with a play on Pumpkin Chunkin and a catapult would be a good idea, which meant Custom Wagons got a call to make the Wheels for the catapult.
The two companies that were building the monster catapult, Steelhead Studios in Holyoke, MA and The Specialists LTD, a weapons Prop Company in NY, could design and make the catapult; their problem was those pesky heavy Wood Cannon Wheels.As you can see, the catapult's wood chassis stood eleven feet high and held a twenty two foot long steel boom.
Wood Butter Churns and Wood Buckets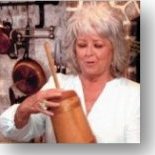 Paula Deen Receives Our Small Wood Butter Churn As A Gift at a dinner party. We received an e-mail from a customer who stated the they would be attending a dinner at the home of Ms. Deen and would like to take one of our small Wood Butter Churns as a gift.

We built the small Wood Butter Churns for the customer and the customer took the small Wood Butter Churns to Ms. Deen on the night of the dinner at her home. We are not trying to put words in Ms. Deen's mouth, however, I think her face says it all. All I can say is that is one lucky Butter Churns, day after day, being able to be in Paula Deens kitchen, seeing and smelling all that good Paula Deen food.
Wagon Wheels, Custom Wagon Wheels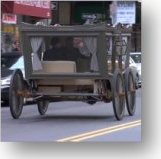 This carriage runs on four (4) 12 volt batteries. Custom Wagons built the unique Wagon Wheels for this one of a kind art vehicle which artist Seth Kinmont exhibited in New York at Project No. 8 and was later on display at the Henry Art Gallery in Washington. Artist Seth Kinmont's Electric Wood Automobile, view Videos and Pictures of this Electric Wood Vehicle on our site, Kinmont introduces the automobile to American, by using the allure and history of independence and travel.
To View The Video and Pictures of Wood Automobile, CLICK HERE